Main content starts here, tab to start navigating
Menus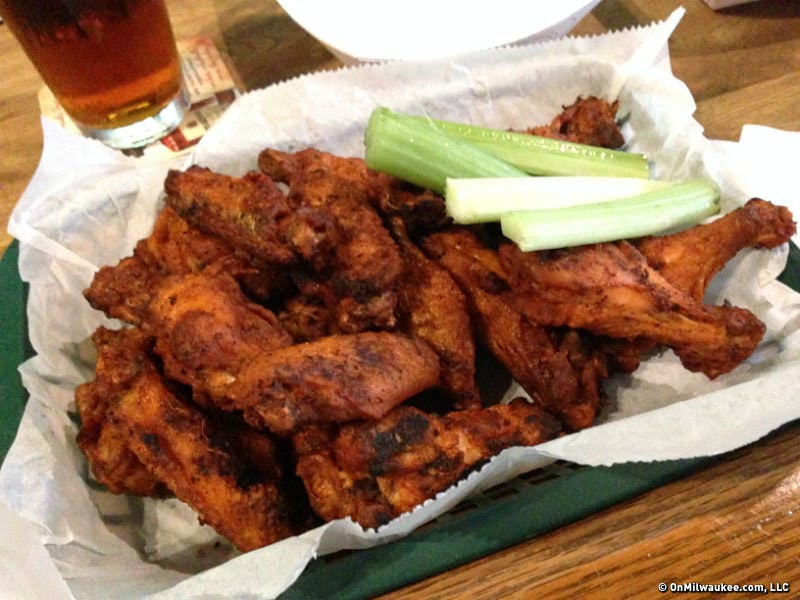 Appetizers
Jalapeno Poppers

Aged red jalapeno poppers. Served with a side of salsa and sour cream. Marinara available upon request.

Cheese Curds

Breaded white cheddar cheese curds, deep-fried and served with Marinara sauce.

French Fries

Grade A, coated house fries. Half order available.

Garlic French Fries

Our same coated house fries, served with loads of garlic in a butter sauce. Half order available.

Pickle Fries

Replaces our jalapeno pickle spears. The fries are smaller, crispier, and more plentiful, but without the bite.

Tex-Mex Corn Fritters

Charred elote corn blended with five cheeses and spices for a delicious glutenfree snack with a touch of heat. Served with garlic aioli.

Onion Petals

Our take on the classic onion ring. Larger pieceswith less breading.

Quesadilla

Four cheese or cheese & onion quesadillas, served with salsa and sour cream.

Add chicken for additional charge.

Our Famous Wings

6, 12, or 18 of our award-winning, jumbo first-and-second joint premium chicken wings, deep-fried, dipped in our famous sauce, and grilled to perfection...often imitated, never duplicated. Served with celery and your choice of ranch or blue cheese dressing.

Friday Fish Fry

Freshly beer-battered cod, served with our house-made slaw and your choice of French fries or two freshly-made potato pancakes. Served with lemon wedge and applesauce or sour cream. No substitutions please.
Burgers & More
All sandwiches served with lettuce and tomato and accompanied by a bag of kettle-cooked chips. Cheese, French fries, garlic fries, or onion petals can be substituted for an extra charge. Onions added on request.
Black Angus Burger

One third pound certified Black Angus served on a lightly buttered and toasted Sciortino's bun.

BLT

Six slices of thick, medium-smoked, Pritzlaff bacon, served with lettuce, tomato, and mayonnaise on three slices of Sciortino's bread.

Grilled Chicken

5 oz. chicken breast, perfectly grilled and served with lettuce and tomato on a buttered Sciortino's roll.

Chicken Avery

5 oz. chicken breast, dipped in our homemade wing sauce. This is how to get the awesome flavor of our wings without the skin and bones.

BBQ Chicken

5 oz. chicken breast grilled with Sweet Baby Ray's BBQ sauce.

Beyond Burger

The world's first plant-based burger that looks, cooks, and satisfies like beef without GMOs, soy, or gluten. Served on a toasted Sciortino bun with lettuce and tomato. Onions available upon request.

Tuna Kyoto

Six oz. yellowfin tuna fillet perfectly grilled, served with a spicy wasabi mayonnaise.

Add-Ons

Cheese

American, Cheddar, Swiss, Jalapeno Pepper-jack, or White Cheddar Horseradish Chive

Bacon

Two thick, medium-smoked strips of Pritzlaff bacon

Sauces:

Extra sauces available for a surcharge
Cocktails
Featuring locally made Great Lakes Distillery
Milwaukee Mule

Award winning Rehorst Vodka, Wisconsin's first spirit with ginger beer and lime.

Sconnie Mule

Gold Medal Rehorst Citrus Honey Vodka, Good Land Cranberry Liqueur, ginger beer and lime make for a mule like you've never had.

Barrel of Cherries

Bourbon barrel aged gin that tastes like a whiskey? Rehorst Barrel Reserve Gin and Good Land Cherry Liqueur are all that is needed to blow your mind. Try this now!

KK Old Fashioned

Gold Medal Kinnickinnic Whiskey makes this Wisconsin style Old Fashioned shine, Good Land Door County Cherry Liqueur makes more Wisconsin.
Monday
Beef or Chicken Tacos

Served on a toasted flour tortilla with fire-roasted salsa, lettuce, tomato, and cheese. Onions are available upon request. Sour cream extra. Dine in only. Served 4-11

each $2

$1 Off All Mexican Beers

Including Corona and Corona Light, Dos Equis Amber and Lager, Pacifico Clara, and Negro Modelo.
Tuesday
1/3 Pound Angus Burger with Chips

$6

Pints of Miller Lite



$2.50

Pints of Riverwest Stein or Blue Moon

Dine in only... No To-gos!

$3.25

*Please note that these specials are not available on holidays!
Wednesday
Bottles of PBR or Rolling Rock...

3 pm to close

$2
Thurday
Great Lakes Distillery Specials!

Rehorst Vodka, Citrus Honey Vodka, or Gin Kinnikinnic Whiskey

High Ball $3

High Ball Doubles $6

Plus

Rail Highball $2.25

Rail Highball Double $4.50
Friday Fish Fry!
Freshly Beer-Battered Cod with Cole Slaw

Choice of French Fries or House-Made Potato Pancakes. Served 4:30 - 11 pm

$11.25

*Please note that these specials are not available on holidays!